- Breakthrough technology that enables convenient no-development operations for long-lived prints to the highest quality available today.

Agfa's recently launched Mistral plate is a technically breakthrough thermal ablation plate that requires no development, has extremely high quality in long live printing, and is easy to operate. This development-free printing plate is based on advanced thermal ablation technology, which allows the plate to be imaged and printed on the machine in minutes, without the headaches of chemical development, such as cost, potential image distortion, etc. .

The long-lived printing plate with predictable press performance "Mistral plate is a noteworthy printing plate that realizes the convenience that the printing factory has dreamed of for many years. It can be integrated into the assembly line to make the printing press faster." Agfa Theo De Keersmaecker, the company's global market manager for printing plates, said: "On presses, Mistral plates can reach more than 300 lines per inch, plus it has extremely long prints, and Mistral plates can accommodate a wide range of applications. Needs. "

The wise choice of free-use printing plates Mistral is a thermally-erodible, development-free printing plate that uses advanced aluminum substrates with predictably excellent properties. "Mistra's plate is the latest representative of thermal etching technology. Its performance on the press is predictable, and it has a longer print length than other non-developed plates," De Keersmaecker said. Mistral plates can achieve more than 500,000 prints without baking. It does not require a special ink or fountain solution, so it is also possible to obtain such a high number of impressions on conventional dampening offset presses. In the operation, the printer only needs to use the Mistral plate like a standard offset printing plate. This new generation of thermal-type printing plates can be safely operated in bright room conditions without the need for dark room lighting or operating in a special work area (range). Mistral plates have a longer shelf life, which is more convenient than ever.

The Mitr plate, the best plate used by Galileo Talant, is optimized by Agfa for the new Galileo Talant free development computer-to-plate system. "Agfa designs and manufactures innovative digital platemaking systems that also design and manufacture the plates used for their imaging," said De Keersmaecker. "Our scientific staff designed the ideal Mistra plate for our new Galileo Talant plate-etching system. The Mistral plate, when used on the Galileo Talan platemaking system, yields the hardest dots and the best resolution and The best print performance." The combination of Galileo Talant and Mistral plates produces nine 44.5-inch plates per hour at a resolution of 2,400 dpi and is extremely convenient and of high quality. In addition, Mistral plates can also be compatible with other thermal etching platemaking systems.

A part of Agfa's computer-to-plate system The combination of Agfa's Mistral plate and the Galileo Talant plate-making system is a complete computer-to-plate system with a matching plate and imaging system for higher quality and reliability. "Agfa is the world's leading manufacturer of digital plates, and we are in this position to produce the best plates for the world's leading plate recorders," said De Keersmaecker. "Any other manufacturer cannot provide such a high level of compatibility. Moreover, we have advanced processes, high-quality screening, digital proofing, responsible services and technical support, and today's users need to be in computer-making. The various factors necessary for successful operation on the system."
For example , Canvas Back Inversion Table .It is a new different Fitness Equipment Inversion Table . It has special canvas back . It is hot sell in the developing countries . It has stronger canvas back and it is easy to install, only need to put on it and closed the buttons . The Folding Inversion Table bottom with 4 new non-slip mats . It is very safety when operating the machine . You can print your own company logo on the back . It also has 2 triangle cloth and you can AD your company information on it . The price is very low and only with 50USDS . Many new clients choose it at their first beginning inversion table business .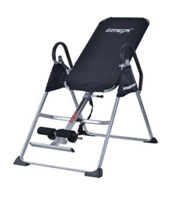 XJ-I-01A

SPECIFICATION

G.W

23KGS

N.W

21KGS

Max Weight

136KGS

Meas

131*77.5*14 CM

Max Height

198CM

Size

120*60*140CM

QTY

1PC/CN

Ctn

208PCS/20`FT

440PCS/40`GP

500PCS /40`HQ
Commercial Inversion Table,Canvas Back Inversion Table,Plastic Back Inversion Table,Healthware Inversion Table
ZHEJIANG MEIER FITNESS EQUIPMENT CO., LTD , http://www.chinameier.com