The Characteristics of EPSON Century Rainbow K3 Pigment Ink in Industry Application
1. The reproduction of color gamut completely covers the European printing industry's color gamut standard
2, increase the faint black ink, the perfect embodiment of color, gray balance accurate and perfect embodiment of color, accurate gray balance, eliminate color cast and color distortion levels, richer levels, print more delicate
3, fast and stable ink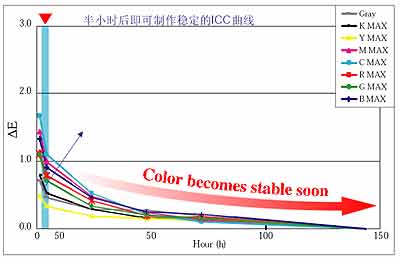 As can be seen in the figure, after half an hour of printing, the ink settles on the paper and the ICC file can be produced.
4, excellent light, waterproof, ozone, scratch-resistant
EPSON large-format printer industry application solutions
1. Advertising design output proofing 2. Printing process digital proofing and layout proofing 3. Artwork copy 4. POP and business cards and other personality output 5. High-end image and collection-level photography output
Printer output problems
1. The printer ink head nozzle blocks the piezoelectric printer. If it is not used for a long time, it will cause the nozzle to clog. Before the printing, the nozzle inspection test should be performed to clean the print head.
2. The color change caused by the change of the ink head of the printer needs to re-create a new printer linear file in the software through the spectrophotometer so as to ensure the stability of the color.
3, change the color of the media and ink and the same need to use the spectrophotometer in the software to re-create a new printer linear file
Prepress color management process specification
1. Regular color correction of the output device Regular calibration of the display Periodic correction of the printer
2. Consistency of the target profile data The soft proofing of the screen is consistent with the data of the target profile used for digital proofing, and does not necessarily have to be in the same format. Use the consistency of the spectrophotometric tool.
3. The stability of the printout The importance of the original ink: stability. It takes between one and one and a half hours to replace the ink from the beginning of printing until the color is stable, while the original ink only takes half an hour. There is also the stability of the print media. The media and ink have been matched and stable after a certain period of running, and should not be changed frequently.
Note: This question is based on the speech made by Mr. Chen Bo of Beijing Huachuang Qingtian Technology Co., Ltd. at the 2006 digital printing business profit model seminar and is for reference only.





Source: HC Network Printing Industry Channel
Electronic products economic packaging/ market administered marketing professional information. Electronics, toys, packaging Speaker:our company packaging product packaging definition definition: protect the flow of products, making it easy storage and transportation, to promote sales.

Size: Customized
Shape and Style: Rectangle, square, circular, oval, especial shape for corrugated packing carton box
Grey board of Electric Box: From 300g to 1600g is normally
Kraft paper: 300g brown Kraft paper is normally used for corrugated shipping carton box
Printing: 4 colors Gravure printing, 5-7 color offset printing, screen printing, Pantone color, UV printing.
Surface treatment: Glossy lamination / matt lamination / varnishing / UV coating /hot stamping / embossing / laser / etc
Brand: OEM and ODM are available, and it can be printed as your requirement.
Packaging: boxes are packed by standard export carton or according to customers' requirements.

Other Electronics Packaging Box
Wholesale Electronic Box,Paper Electronic Box,Wholesale Paper Electronic Box,Mouse Packaging Box,Kids Toys Electronic Packing Box
Dongguan Mengyue Packaging Products Co.,Ltd. , http://www.gemingprinting.com